NASA Procedures and Guidelines

This Document is Obsolete and Is No Longer Used.
Check the NODIS Library to access the current version:
http://nodis3.gsfc.nasa.gov


---

NPR 1840.1
Eff. Date: August 23, 2001
Cancellation Date: October 06, 2009

Management of Workers' Compensation Injuries and Illnesses w/Change 1

| TOC | Change | Preface | Chp1 | Chp2 | ALL |
CHAPTER 2. Procedures
---
2.1 Agency Workers' Compensation Program Manager
The Agency Program Manager, located at the Kennedy Space Center, performs the following functions:
a. Provides OWCP data to NASA Centers and NASA management.
b. Reviews Center progress toward reducing the number of cases, ensuring compliance with presidential and NASA goals for the Federal Worker 2000 Presidential Initiative as they relate to rates and timeliness of reporting, and reviews selected Workers' Compensation cases for compliance with this NPR.
c. Provides assistance for the review of all cases of permanent disability where return to work may not be possible.
d. Alerts management in a timely manner when negative trends (i.e., increase in injuries, illnesses or charge back costs) are noted.
2.2 Occupational Health Clinic Personnel
2.2.1 Occupational Health Clinic personnel evaluate all work-related injuries and illnesses for NASA employees and provide medical evaluations of employees for modified duty positions; evaluate the private physician's medical diagnosis for injured employees and recommend a course of action to management, based on this evaluation; and coordinate with the employee's treating physician to establish work limitations for all injured NASA employees. In addition, Occupational Health Clinic personnel provide consultation, in conjunction with the employees' private physician, to the WCO's on appropriateness of medical treatment.
2.2.2 The medical evaluation includes a medical assessment of any injured employee applying for Workers' Compensation, who is expected to be or has been away from work more than 7 calendar days, as a result of a work-related injury. This evaluation may also be used to determine the nature and scope of work the injured employee may perform in a limited duty status.
2.2.3 Occupational Health Clinics also provide medical evaluation at the behest of the Human Resources Office of previously injured employees currently receiving compensation for lost wages to determine the nature and scope of work the injured employee may perform in a limited-duty status. This evaluation includes providing copies of medical documentation and reports to OWCP and identifying individuals who fail to report for an examination that NASA orders through the WCO.
2.2.4 Occupational Health Clinics also review specific Center job offers for consistency with medical limitations. Figure 1 describes the Center Workers' Compensation process.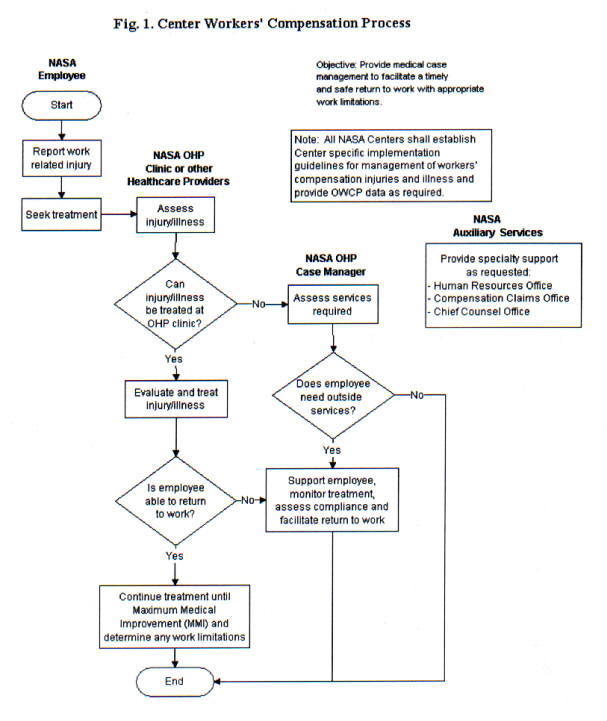 2.3 Workers' Compensation Officers
2.3.1 Workers' Compensation Officers maintain a current record of all personnel submitting claims to OWCP which includes an annotation of medical status. They provide a report within 3 working days of the event to the Occupational Health Program Office, which contains information on serious occupational injury, illness, or death of an employee likely to result in claim to OWCP. For the purpose of this document, in accordance with DOL-ESA-OWCP Publication CA-810, an injury is considered to be serious when a reasonable potential for injury involves more than $1500 in medical costs, the employee is off work for more than 7 calendar days, or traumatic death of an employee occurs during duty hours.
2.3.2 WCO's monitor the number of lost work days and hours, COP, and compensable hours paid by OWCP for each employee considered a new case. Claims are processed to ensure arrival at OWCP no later than 10 working days after the Agency receives written notification.
a. First aid claims (claims filed for injuries where the injured employee was seen at a NASA Center Health Clinic and do not include lost time beyond the date of the injury nor medical charge) are retained by the WCO, with the notation "First Aid" added to the upper right portion of the Federal Employee's Notice of Traumatic Injury and Claim for Continuation of Pay/Compensation (CA-1). If a claim remains classified as "First Aid" for 30 days, the record is sent to the Employee Medical File (EMF).
b. If first aid claims subsequently require additional treatment at the NASA Center Health Clinic, these claims should be sent to OWCP.
c. If a first aid claim later results in a compensatory case, the claim must be submitted to DOL, per DOL guidance, within 10 working days, with a letter of explanation indicating the date NASA became aware of the potential for lost time. A claim becomes a compensatory case when the employee loses time from work other than the date of injury or returns for more treatment after the initial first aid contact.
2.3.3 WCO's maintain records of timeliness of claims submitted to OWCP. They review long-term cases (i.e., 1 year or longer) at OWCP offices to ensure quality control assessment of medical disposition of cases. They also coordinate with Human Resources Officers, the employee's supervisor, and medical personnel on placement of injured employees into limited duty work, when medically feasible. They ensure that the records are maintained and safeguarded as per OWCP guidance and as stated in NPG 1441.1, NASA Records Retention Schedules. Figure 2 shows procedures for filing claims and reporting work-related injuries/illnesses.
2.3.4 WCO's submit quarterly reports to the Agency Workers' Compensation Manager who documents progress made toward reducing the number and costs of Workers' Compensation injuries and the number of lost work hours for employees receiving Workers' Compensation lost wage benefits. The reports include the number of employees requiring work limitation and the number of employees returned to alternate work. They also include the timeliness of processing the following FECA claim forms to the OWCP:
a. CA-1, Federal Employee's Notice of Traumatic Injury and Claim for Continuation of Pay/Compensation;
b. CA-2, Notice of Occupational Illness and Claim for Compensation;
c. CA-2a, Notice of Employee's Recurrence of Disability and Claim for Pay/Compensation; and
d. CA-7, Claim for Compensation.
Workers' Compensation forms are available on-line from DOL at http://www.dol.gov/dol/esa/public/regs/compliance/owcp/forms.htm.
2.3.5 Reserved
2.3.6 When there is a issue concerning accommodations or equal access, WCO's will consult with the Center Equal Opportunity Office regarding regulations.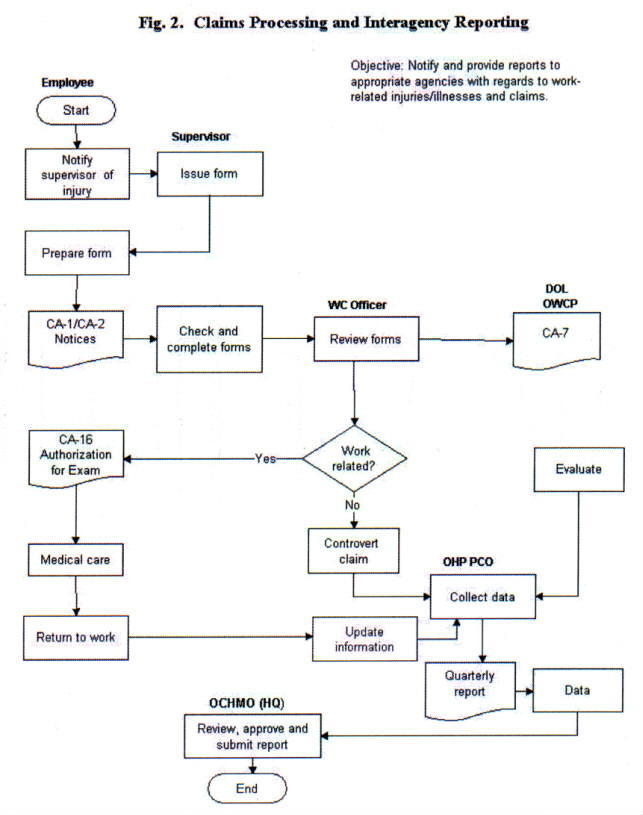 2.4 Injured Employees
2.4.1 Injured employees who plan to apply for OWCP benefits must immediately report all injuries and illnesses to their supervisor and to the WCO.
2.4.2 Employees agree to be seen by a licensed physician or registered nurse at the NASA Center Health Clinic or by their personal physician after occurrence of an injury.
2.4.3 All medical reports and all compensation forms shall be provided to the Center WCO.
2.4.4 Employees must report to the NASA Center Health Clinic to ensure that the employee is fit for duty before returning to resume normal duties after an occupational injury or illness.
2.4.5 Employees must provide information on injuries to their supervisors and medical reports to WCO's for evaluation before applying for compensation. Proper reporting of injuries and illnesses to the NASA Center Health Clinic is essential to the expeditious processing of Workers' Compensation claims.
2.4.6 Employees must advise their attending physician of NASA policy to provide suitable work within the physical limitations of the injury.
2.4.7 Employees must immediately inform their supervisor and WCO of any medical limitations imposed by any non-NASA physician and provide acceptable medical documentation of these limitations. The supervisor may request that the NASA medical staff review the recommended medical limitations.
2.4.8 The employee is required to accept any reasonable offer of full-time or limited-duty work for which the employee is qualified to perform or provide suitable explanation to the OWCP for declining the proposed work assignment when the employee's physician's report indicates the employee is no longer totally disabled.
2.4.9 If an employee is receiving COP and refuses limited-duty assignment that meets the requirements of the treating physician, COP must be terminated upon refusal of the employee or within 5 days of the offer, whichever is earlier.
2.5 Human Resources Officers
2.5.1 Human Resources Officers work with WCO's and Center Medical Directors to determine if current position descriptions are consistent with the injured employee's limitations and qualifications. If they are not suitable, duties may be modified, where possible, based on acceptable medical documentation and where the accommodations/changes are reasonable. Position descriptions do not necessarily need to be modified unless the change is long-term.
2.5.2 Reserved
2.6 Employees' Supervisors
2.6.1 Supervisors of injured employees filing a claim with OWCP must complete CA-1or CA-2 forms within 2 working days of the event and return them to the WCO.
2.6.2 Supervisors will promptly notify WCO's of serious injury or death of their employees during duty hours.
2.6.3 Supervisors will structure or modify work duties with assistance from the Office of Human Resources and Education, the Office of Safety and Mission Assurance, Center Health Clinic, and the WCO, as needed, to meet temporary medical limitations of injured employees.
2.7 Chief Financial Office and Payroll Officers
2.7.1 The Chief Financial Office reports costs of Workers' Compensation claims to Center Management.
2.7.2 Payroll Officers provide and verify pay information to WCO's on injured employees for COP or other wage-loss compensation paid by the OWCP.
DISTRIBUTION:
NODIS
---
This Document is Obsolete and Is No Longer Used.
Check the NODIS Library to access the current version:
http://nodis3.gsfc.nasa.gov

---