NASA
Procedural
Requirements
NPR 7120.8
Effective Date: February 05, 2008
Expiration Date: February 05, 2018
COMPLIANCE IS MANDATORY
---
Subject: NASA Research and Technology Program and Project Management Requirements (w/change 3 dated 04/18/13)
Responsible Office: Office of the Chief Engineer
Appendix C. R&T Program Formulation Authorization Document (FAD) Template
C.1 R&T program FAD Title Page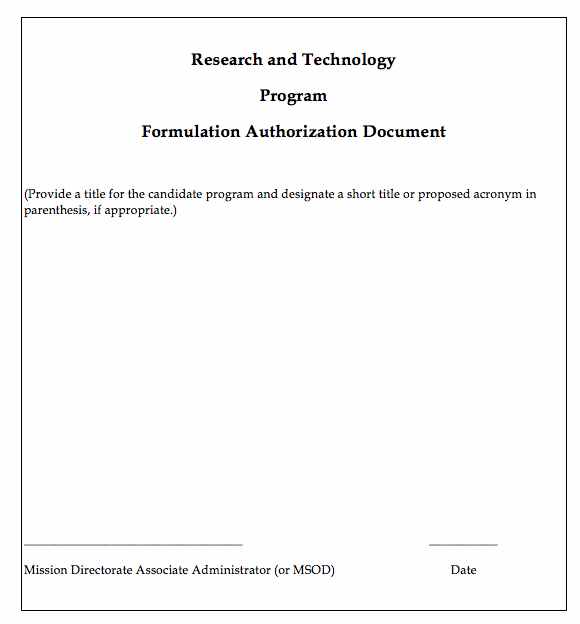 Figure C-1 R&T program Formulation Authorization Document Title Page
C.2 R&T program FAD Template
RESEARCH AND TECHNOLOGY PROGRAM
FORMULATION AUTHORIZATION DOCUMENT
(PROGRAM TITLE)
1.0 Purpose
Briefly describe the purpose of the program and define its relationship to the Agency's vision and mission, as defined by NPD 1001.0, NASA Strategic Plan.
Establish the scope of work to be accomplished.
Define the approach and resources required to conduct program formulation.
2.0 Authority
Identify the program lead to manage the Formulation effort.
Describe any Center involvement, including lines of authority, coordination, and reporting.
Identify the management process (NPR 7120.8, etc.) for the program.
Identify the initial program elements that follow a Technology Development Project life cycle and those elements that follow an R&T portfolio project life cycle.
3.0 Funding
Identify, by fiscal year, the funding that will be committed for Program Formulation.
4.0 Constraints
Provide initial constraints, including resources, schedule, and program participants within and external to NASA, including international partnerships.
5.0 Reviews
Describe any reviews, including independent reviews required during the formulation phase. Describe the criteria for triggering a termination during formulation.
DISTRIBUTION:
NODIS
---
This Document Is Uncontrolled When Printed.
Check the NASA Online Directives Information System (NODIS) Library
to Verify that this is the correct version before use: http://nodis3.gsfc.nasa.gov
---