NASA
Procedural
Requirements
NPR 7120.8
Effective Date: February 05, 2008
Expiration Date: February 05, 2018
COMPLIANCE IS MANDATORY
---
Subject: NASA Research and Technology Program and Project Management Requirements (w/change 3 dated 04/18/13)
Responsible Office: Office of the Chief Engineer
Appendix H. Technology Development Project Plan Template
The MDAA or MSD may authorize use of an alternative format with compatible content.
H.1 Technology Development Project Plan Title Page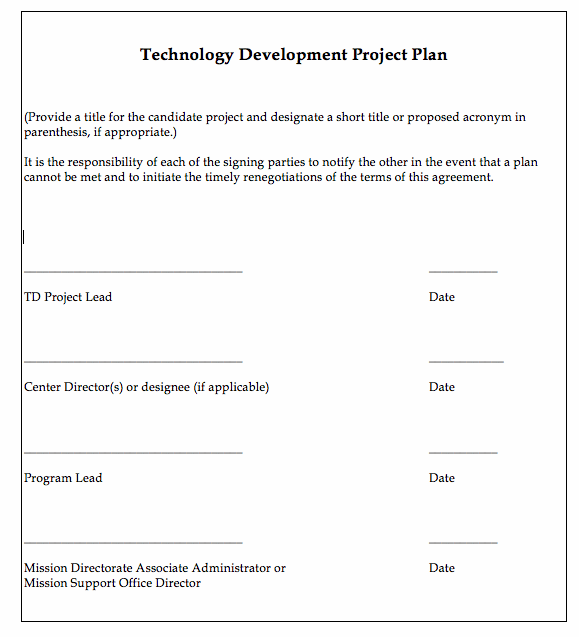 Figure H-1 Technology Development Project Plan Title Page
H.2. Technology Development Project Plan Template
TECHNOLOGY DEVELOPMENT PROJECT PLAN
(PROJECT TITLE)
1.0 Objectives
State the specific TD Project's objectives and performance goals and their relationship to the program's objectives and goals. Performance goals should be stated in an objective, quantifiable, and measurable form. Include project-specific high-level requirements. State the TD Projects relevance to the Agency's vision and mission, as defined by NPD 1001.0, NASA Strategic Plan. State the full mission success criteria clearly and concisely in a form suitable for objective verification and validation. State the minimum mission success criteria associated with the high-level project requirements that, if not met, trigger a possible Termination Review.
2.0 Technical Approach
Present a technical description of the TD Project. This includes R&T, facilities, flight plans, operations and logistics concepts, and planned results analysis and reporting. Define any technical milestones. Document an assessment (Gap Analysis) of related technology development activities in other NASA programs, other Government agencies, and the commercial sector to eliminate unnecessary duplication of effort.
3.0 Performance
Describe the project specific KPPs and establish quantitative values (goal and threshold values) for each to be achieved at each milestone. The relationship may be in the form of a matrix that show the KPP range (threshold and goal) and the TRL (refer to NPR 7123.1) to be achieved at each major demonstration. Define the initial or state-of the art in the KPPs and TRL at the beginning of the project. Document the initial gap analysis to assess related technology development activities in other NASA programs, other Government agencies, and the commercial sector to minimize duplication of effort. Define the specific factors that will be used in the TRL assessment. For example, the term "relevant environment" should be specifically defined for the technology needs that this specific project is developing.
4.0 Management Approach
Identify the TD project lead. Describe the project management structure consistent with the project WBS, including organization and responsibilities, its integration into the program management structure, and NASA Center participation. Include clear lines of authority and reporting; illustrate the organization graphically. Describe how the project interacts with applicable NASA Center(s). Identify all significant interfaces with other contributing organizations. Describe the process for problem reporting and subsequent decision making, clearly describing the roles and responsibilities of all organizations. Identify specific management tools to support management in planning and controlling the project. Describe any use of special boards and committees. This section should indicate if a greater emphasis is necessary on maintaining technical objectives, cost, or schedule. Explain how the project will ensure identification, control, and disposition of project records in accordance with NPD 1440.6, NASA Records Management, and NPR 1441.1, Records Retention Schedules.
5.0 Resource Requirements
a. Funding Requirements: Document the initial life-cycle cost (LCC) consistent with the TD Project WBS, schedule, and performance parameters to form the project estimate baseline. Present a funding requirements chart. Indicate the NOA in full-cost, real-year dollars for the prior, current, and remaining fiscal years. The displayed detail should cover major elements of cost (typically reflecting at least at the second level of the WBS or its equivalent). (For more information on full cost and practices, see Volume 7 of the NASA Financial Management Requirements.)
b. Institutional Requirements: Present the infrastructure requirements (use or development of real property/facilities, aircraft, personal property, information technology) for the entire project throughout its life cycle. The business case includes full LCC (including operations, sustainment, and disposal); benefit estimates; alternative and sensitivity analyses; and risk assessment. Identify means of meeting infrastructure requirements through synergy with other programs and projects, thus avoiding costly duplication of support facilities and capabilities. Identify any necessary upgrades or new developments, including those needed for environmental compliance. Present the workforce requirements. Include full-cost civil service workforce requirements on the providing organizations for the prior (e.g., actuals), current, and remaining years. If use of NASA aircraft is planned, address here or address in a separate aircraft utilization plan the projected ground and flight utilization, modification requirements, planned deployments, aerobatics requirements, estimated costs, and other applicable requirements.
c. Environmental Management Requirements: Describe any activities specific to the project to be conducted with support from the cognizant Environmental Management Office (EMO) to comply with NPR 8580.1, Implementing the National Environmental Policy Act and Executive Order 12114.
6.0 Schedule
Document the TD Project's Integrated Master Schedule for all major events, independent reviews, and other activities throughout the life cycle of the project. Include approval dates for principal project documentation, life-cycle transitions, major reviews, program-controlled milestones, and significant contract milestones. Identify lower-level schedules to be developed and maintained. Project leads are encouraged to identify alternative development paths in order to maximize the probability of success.
7.0 Work Breakdown Structure
A TD Project work breakdown structure (WBS) (see Appendix K) will be defined accompanied by a WBS dictionary. The WBS should be defined to the level required to identify issues associated with technical progress and resource utilization in a timely manner. The WBS level should be consistent with effective tracking of major milestones and earned value management reporting.
8.0 Strategy for Technology Transition
Identify the NASA crosscutting or other technology thrusts to be utilized by the TD Project as well as the sources of the technologies. Describe how the TD Project will remove remaining technology gaps, including maturation, validation, and insertion plans, quantifiable milestones, decision gates, and resources required. Describe how and when the TD Project will evaluate the feasibility, readiness, cost, risk, and benefits of the new technologies. Also provide alternative development strategies for technologies that do not mature as expected. Identify distribution restrictions on the software, hardware, or data. Describe how the technology end item deliverable (product or service) will transition to the customer/beneficiary application (i.e., a technology transfer strategy). Demonstrate close interaction with the application community, and provide an exit strategy following technology transfer.
Document strategy for closure of contracts, archival of data, and disposition of residual property associated with the TD Project when the project ends.
9.0 Risk Management
Summarize the risk management approach to be used for the TD Project, including appropriate actions to mitigate risk and TD Project de-scope plans. Risk mitigation should be balanced with the need to conduct challenging technology development that will realize significant gains. If required, list any project elements that will develop their own stand alone risk and safety plans (see section 4.3.6.10, 4.3.6.11, and 4.3.6.12).
10.0 Project Evaluation And Optional KDPs
Provide details for the Formulation Reviews and periodic assessments or status reviews that will be used to evaluate progress. The schedule of reviews, as well as the composition of the review body, should be defined. This includes defining the role of the customer/beneficiary in the review process. Define the factors (including TRLs) that will be used to perform the technology assessment. Identify any optional KDPs (KDP B, D, and E) required by the DA or determine that these optional KDPs are not needed. This should include determination of gate products required prior to the optional KDPs.
11.0 Security Plan
Document the TD Project's approach to implementing IT security requirements in accordance with NPR 2810.1, Security of Information Technology.
DISTRIBUTION:
NODIS
---
This Document Is Uncontrolled When Printed.
Check the NASA Online Directives Information System (NODIS) Library
to Verify that this is the correct version before use: http://nodis3.gsfc.nasa.gov
---