Introduction
I.1 Records Management Required
All Federal employees are required by law and Agency policy to maintain and preserve records. Federal Regulations 36 CFR Part 1220 and 1222, along with NASA Policy Directive (NPD) 1440.6F, NASA Records Management, state the requirement. The heads of Federal agencies are responsible for preventing any unlawful alienation, alteration, removal, or any accidental or unauthorized destruction of records, including all forms of mutilations. In addition, they are responsible for ensuring that all employees are aware of these provisions in the law and that any such action be reported to them or the Agency Records Officer.
I.2 Records Defined
The statutory definition of Federal records is contained in 44 U.S.C. Section 3301 and is referred to in the National Archives and Records Administration (NARA) Regulations: 36 CFR Part 1220.14 and 1222.12. The Definition of Federal records in 44 U.S.C. Section 3301 is--
As used in this chapter, "records" includes all books, papers, maps, photographs, machine readable materials, or other documentary materials, regardless of physical form or characteristics, made or received by an Agency of the United States Government under Federal law or in connection with the transaction of public business and preserved or appropriate for preservation by that Agency or its legitimate successor as evidence of the organization, functions, policies, decisions, procedures, operations, or other activities of the Government or because of the informational value of data in them. Library and museum material made or acquired and preserved solely for reference or exhibition purposes, extra copies of documents preserved only for convenience of reference, and stocks of publications and of processed documents are not included.
a. Federal Record and Nonrecord Differentiated
Each person needs to determine if material (e.g., book, papers, documents, records) is "record" or "nonrecord."
(1) "Nonrecord materials are those Federally owned informational materials that do not meet the statutory definition of records (44 U.S.C. Section 3301) or that have been excluded from coverage by the definition. Excluded materials are extra copies of documents kept only for reference, stocks of publications and processed documents, and library or museum materials intended solely for reference or exhibit." (36 CFR1220.14)
(2) Documentary materials are records when they meet both of the following conditions.
(i) They are made or received by an agency of the United States Government under Federal law or in connection with the transaction of agency business; and (ii) They are preserved or are appropriate for preservation as evidence of agency organization and activities or because of the value of the information they contain.
(3) Some nonrecord examples are vendor catalogs and trade journals, copies of agency directives maintained by other than the issuing component(s) of the agency, a letter received by an employee concerning his/her personal business.
b. "Permanent" and "Temporary" Federal Records Differentiated
(1) Permanent record means any Federal record that has been determined by NARA to have sufficient value to warrant its preservation in the National Archives of the United States. Permanent records include all records accessioned by NARA into the National Archives of the United States and those for which the disposition is permanent as approved by NARA via a Standard Form (SF) 115, Request for Records Disposition Authority. Permanent records are those appraised by NARA as having sufficient historical or other value to warrant continued preservation by the Federal Government beyond the time they are needed for administrative, legal or fiscal purposes.
(2) A temporary record is any record which has been determined by the Archivist of the United States to have insufficient value (on the basis of current standards) to warrant its preservation by the National Archives of the United States. Temporary records are approved by NARA for disposal, either immediately or after a specified retention period. NARA determination may take two forms.
(i) A series of records designated as disposable in an Agency records disposition schedule approved by NARA (via SF 115); or
(ii) A series of records designated as disposable in a NARA General Records Schedule (GRS).
NOTE: Procedures in this NPR and the dispositions set forth are not applicable to library materials or reference documents normally housed in libraries. Such materials, contained in a library, are considered to be nonrecord.
I.3 NASA Records Retention Schedules
The NASA Records Retention Schedules (NRRS) are divided into the following 10 subject categories, which are correlated, to the Agency Filing Scheme (AFS).
• Organization and Administrative
• Legal and Technical
• Human Resources - Personnel
• Property and Supply
• Industrial Relations and Procurement
• Transportation
• Program Formulation
• Program Management
• Financial Management and Inspector General
• Common Records
Schedule 1, "Organization and Administrative Records" and, Schedule 10, "Miscellaneous Records Common to Most Offices," will be used by all offices. Schedules 2 through 9 will be used according to office function/operation. The schedules are arranged into four separate, distinct, columns:
AFS #
ITEM
SUBJECT AREA OR RECORD TITLE
DESCRIPTION OF RECORDS SERIES
RETENTION
<Authority>
COLUMN ONE
AFS # is the number for the Subject Area in column three. This column will also show the AFS # for the Record Series described in column three.
COLUMN TWO
ITEM is a reference number given to the series of records descriptions in the third column. These numbers are used when completing SF 135, Records Transmittal and Receipt, for transferring records to a Federal Records Center (FRC).
COLUMN THREE
DESCRIPTION OF RECORD SERIES identifies each category and series of records. The Office of Primary Responsibility (OPR) is also indicated along with specific center instructions, if necessary.
COLUMN FOUR
RETENTION indicates the required period of time the records must be maintained by NASA and by the FRC's. Authority provides the NARA Job Number that approved the disposition and retention for the Records Series described. NOTE: the statement "RETIRE TO FRC" can be interpreted as "MAY RETIRE TO FRC OR APPROVED FACILITY." The Center Records Manager approves the storage Facility.
I.4 Managing Federal Records
It should be understood that NASA, as a Federal Agency, is responsible for managing its records, subject to statutory and regulatory restraints. Good records management requires that as soon as records are no longer needed, archival needs must be recognized and the NASA installation records management program must be followed to ensure that records are appraised, transferred, and disposed of efficiently and economically.
a. Two major record categories.
All Agency records (Federal Records) fall into one of two categories as follows:
(1) Administrative Records
These records document administrative functions common to all agencies, regardless of Agency programs, such as personnel, payroll activities, supply and procurement, space, and communications management. Also, they may be involved in General Accounting Office (GAO) audits of accountable officers' accounts when they shed additional light on collection and disbursement transactions or are part of the "audit trail." For example, in an Agency industrial activity, time cards may be used to examine questionable payroll transactions. Administrative records may also be involved in GAO audits that relate to larger Agency programs or administrative activities.
(2) Program Records
These records reflect the substantive missions and programs of the Agency consisting of standard internal management controls, including those relating to policies, organization, duties, functions, planning, procedures, information systems, and expenditure controls. These records also relate to specific activities carried out by the Agency, such as "Mission" records that relate to decisions about the Space Shuttle program and its operations.
b. Cutoff
The cutoff date is an important part of the retention period because it is the date of the record or document that starts the calculation of the retention period. It is the date to use to start calculating the disposal period (years, months, days). Breaking or ending files at regular intervals, usually at the close of a fiscal or calendar year or date of an action, permits their disposal or transfer in complete blocks and, for correspondences files, facilitates the establishment of new files. Case files are generally cut off at the end of the year in which the case is closed. Cutoff is sometimes referred to as file cutoff or file break.
c. Records disposition
Inactive records, which have a long retention time, can be transferred to a FRC for safekeeping. Material will be transferred to installation staging areas, if appropriate, and ultimately to the FRC in accordance with the procedures and instructions set forth at each Center. Medium requiring special conditions, i.e., temperature, humidity, or handling, does not need to go to a staging area prior to shipment if such area will compromise the special conditions required.
d. Retention deviations
The "RETENTION" period shown in the Schedules for a record or series of records is the approved retention period that NASA has received from NARA. If your records need to be kept longer or need to be destroyed sooner than the retention period authorized, you must contact your Center Records Manager (RM) to discuss the requirements for an exception to the authorized retention period. There is no standard procedure for requesting an exception. The Center RM will need to assist you.
I.5 Making Changes to the NRRS:
Occasionally the creation of new record types and changes to current record descriptions and retention periods occurs. When this occurs, NPR 1441.1 needs to be updated. Updates need to be made to the NPR quickly and as often as needed to keep the NPR accurate in providing guidance to the Agency's personnel. To facilitate the timely updating of the NPR, a process of submitting and reviewing proposed schedules that does not utilize the full Directives Management System review and approval process for each change will be followed. The steps below describe this process and identify the actions and action officer for each step. After the proposed schedules pass the review process, an update entry will be made to NPR 1441.1 including an entry in the Change History log. It should be noted that periodically the complete NPR will be submitted and processed through the full Directives review process for formal approval.
NRRS Change Proposal Process
This process should be followed when a record or records series cannot be identified in either NPR 1441.1, as revised, or the NARA GRS. Records of this nature are considered "unscheduled." Unscheduled records stay in the unscheduled state until approval from NARA is granted. Unscheduled records are managed as though "Permanent," meaning they cannot be destroyed until NARA has appraised them and a new schedule has been established.
When the Record Owner determines that a type or series of records either does not exist in this NPR or needs modification, the Record Owner is to contact the NASA Center RM to help develop a proposed schedule for the records. The RM will assist the Record Owner in completing a NASA Form 1418.
All proposed changes and recommendations must be submitted on NASA Form (NF) 1418, Proposed Change to NASA Records Retention Schedules, through the Installation Records Manager to the NASA Records Officer, NASA Headquarters. See Figure 1 for example; use current version of form for submittal.
Each Center may have its own supplemental procedures for developing proposed schedules, but should at least follow the steps below.
| Step | Action Officer | Action |
| --- | --- | --- |
| 1 | Record Owner | Coordinate with Center Records Manager to develop the proposal to either revise an existing schedule or create a new schedule. This includes determining the functions and activities documented by the records to be scheduled, developing an inventory of the records including a description of the records, informational content, their use, medium, location, volume and inclusive dates. In addition, evaluate the period of time the Agency requires use of each specific record series or system by reference to its uses and value to operations or legal obligations. Based on Agency needs, formulate specific recommended disposition instructions for each record series or each part of an automated information system. Include file breaks, retention periods including length of time to retain onsite, instructions for retirement of records to a FRC, when appropriate, retention period before destruction of temporary records or transfer of permanent records to the National Archives. Recommend retention periods taking into account the rights of the Government and the rights of those directly affected by Agency actions. The above information is used to submit a NASA Form 1418 with supplemental attachments, if necessary. |
| 2 | Record Owner | Submit NASA Form (NF) 1418 to the Center Records Manager for review and approval. |
| 3 | Center Records Manager (RM) | Review the NF1418. This review includes checking the GRS for an already established retention schedule appropriate for the records. RM should also coordinate all proposed changes with other officials and offices creating and maintaining similar records at the Center. |
| 4 | Center RM | If a GRS schedule exists, notify the Record Owner and determine whether the current retention period is adequate for the records. |
| 5 | Center RM | If a GRS schedule does not exist or is inadequate for Agency needs, coordinate a review of the proposed change to the NRRS by the Center Chief Counsel or legal organization. |
| 6 | Center RM | If the proposal is disapproved, the Center RM notifies the Record Owner and works with the Record Owner to correct the problem. |
| 7 | Center RM | If the proposal is approved, forward the completed NF1418 and any attachments to the other Center RM(s) for review and comments (3-4 week review period). |
| 8 | Other RM(s) | Each Center RM should determine if the records described in the proposal are applicable to that Center. If they are, that RM should have the appropriate organization review and provide comment on the proposal. |
| 9 | Originat-ing Center RM | Consolidate all Center comments into one response and send to the NASA Records Officer with the completed NF1418 and attachments. If a Center has no comments, a "no comments" notice will be included in the package. |
| 10 | NASA Records Officer | Review the proposal, making any modifications needed based on current NARA and/or Government Accounting Office general guidance. |
| 11 | NASA Records Officer | Send the revised schedule to the Headquarters General Counsel Office for review. |
| 12 | HQS General Counsel Office | Review proposed schedule and submit comments to the NASA Records Office. If the General Counsel has no comments, a "no comments" reply should be sent to the NASA Records Officer. |
| 13 | NASA Records Officer | Disposition comments, if any, and finalize the schedule, complete Standard Form 115, and forward the package to NARA for review and approval. |
| 14 | NASA Records Officer | While NARA is reviewing the proposed schedule, the NASA Records Officer will add the proposed schedule, as a change to NPR 1441.1 with a "Handle as Permanent Pending Retention Approval" label on the records series. Adding the proposed schedule to NPR 1441.1 indicate to NASA personnel that the series of records has been identified, that the record disposition or retention is awaiting approval (records cannot be destroyed), and (with Center RM approval) the records may be sent to an FRC for storage as unscheduled records. In addition, the entry to the NPR will act as a reminder for the NASA Records Officer of schedules that are at NARA for review, facilitating periodic follow up with NARA. |
| 15 | NASA Records Officer | If the proposed schedule is a modification to the Retention area of a current approved schedule the Records Officer may leave the current approved schedule in NPR 1441.1 until the new modified schedule is reviewed by NARA. Or the Records Officer may replace the current schedule with the proposed schedule as a change to NPR 1441.1 with a "Handle as Permanent Pending Retention Approval" label on the records series. |
| 16 | NARA | Review the proposed schedule and either approve or disapprove it. |
| 17 | NASA Records Officer | If NARA disapproves the proposed schedule, work with NARA and submitting Center to make necessary modifications to obtain NARA approval. Coordinate any additional NASA reviews required because of the changes. |
| 18 | NASA Records Officer | Upon NARA approval of the proposed schedule, replace the "Handle As Permanent Pending Retention Approval" label with approved retention. Provide notice of NARA approval to all Center Records Managers. Update the NPR Change History page accordingly. The updated NPR does not have to go through the full NODIS approval process at this time. |
| 19 | NASA Records Officer | If the schedule approved by NARA, was a modification to an existing approved schedule, the Records Officer will replace the current schedule with the new version approved by NARA and update the Change History page. The updated NPR does not have to go through the full NODIS approval process at this time. |
| 20 | NASA Records Officer | Every 2 years, analyze NPR 1441.1 to determine the number of updated/new record series changes to the NPR. If more than 50 have been made, submit a revision to NPR 1441.1 for formal processing and approval. At a minimum, a submit a revised NPR for formal approval every 10 years. |
Submit proposed changes and recommendations on NASA Form 1418, Proposed Change to NASA Records Retention Schedules, through the Center Records Manager who will forward it to the NASA Records Officer, NASA Headquarters. See Figure 1 for example; use current version of form for submittal.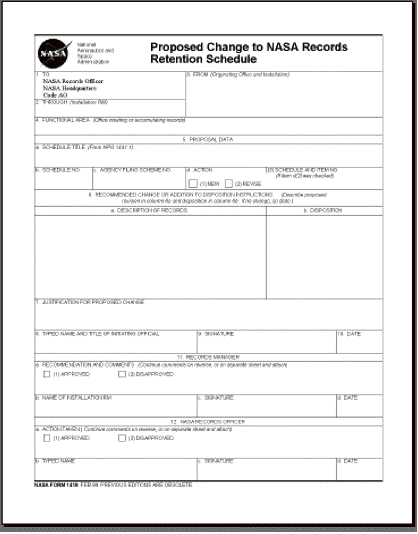 Fig. 1 NASA Form 1418
PDF -- ftp://ftp.hq.nasa.gov/forms/pdf/nf1418.pdf
Informed -- ftp://ftp.hq.nasa.gov/forms/form/nf1418.itp
I.6 Retiring Records
a. When to retire records
Inactive or semi active records that have a minimum retention period of at least 3 years should be retired. Files referred to not more than once a month are considered to be inactive and should be retired to less expensive storage space at either a center staging area, if available, or to one of the approved FRC. NOTE: Transitory or nonrecords items cannot be retired to an FRC.
b. Starting the process
Contact the Center RM who will assist in the preparation of the necessary paperwork, i.e., center forms, SF 135, SF 115. The required form will be completed for every group of records retired to staging areas, FRC's, another centers, another Federal Agency, and for records transferred directly to the NARA.
Sufficient copies of the appropriate forms will be made to meet local, shipping, and FRC/NARA requirements. One copy of all SF 135's documenting permanent records will be forwarded to the NASA Records Officer. SF 135's sent to the NASA Records Officer must include the Accession Number and the records group number. [See Figure 2 for sample SF 135 for NASA Headquarters.]
Note that the only record that NASA retains to describe records either retired or transferred to an FRC or NARA is the SF 135 and SF 115 [See Figure 3]. This document is vital to retrieving documents/materials at a later time. The records must be accurately and adequately described on the SF 135/115 to ensure proper scheduling and potential retrieval.
c. Packing instructions
Records are retired in special record boxes, each holding approximately one cubic foot, and may be obtained through the Center RM. Boxes will accommodate letter or legal sized material. There are special boxes which will accommodate magnetic tapes, microfiche, or flat drawings, see your Center RM for these boxes. Boxes other than records boxes cannot be used because of shelving restrictions and specifications at FRC's.
Fig. 2 - SF-135
Current version at:
Informed -- ftp://ftp.hq.nasa.gov/forms/form/sf0135.itp
PDF -- ftp://ftp.hq.nasa.gov/forms/pdf/sf0135.pdf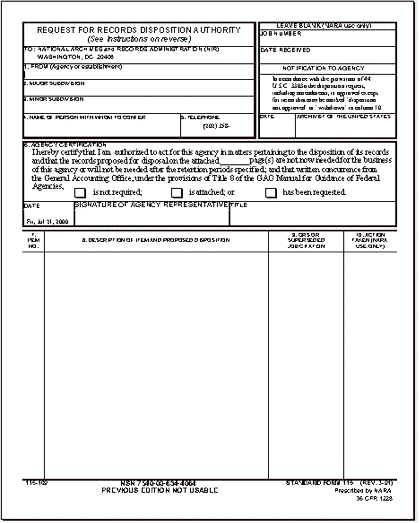 Fig. 3 - SF-115
Current version at:
Informed -- ftp://ftp.hq.nasa.gov/forms/form/sf0115.itp
PDF -- ftp://ftp.hq.nasa.gov/forms/pdf/sf00115.pdf
d. Basic guidance
Before any efforts are undertaken to retire records, contact the Center RM for instructions and assistance.
(1) Preparing records for transfer:
(i) Remove all nonrecord material and extra copies;
(ii) Separate records into appropriate series/collections. A series is "a block of records having the same disposition authority and date." Each item or sub item in this schedule represents a series.
(iii) Retire each series as a separate accession. Mixed series are not to be accepted without an approved exception letter generated by the NASA Records Officer. Accessions must consist of at least one box.
(2) Packing records:
(i) Use the proper size box when packing records. Consult the Center RM for boxes.
(ii) Follow assembly instructions provided with boxes. Leave approximately one inch of space in each box for working with the files more if additional files will be added later. Send only completed or closed files. This prevents separation of file documentation and reduces the amount of vacant space in the box. Leave all guides and tabs in the records if they will assist FRC staff in servicing or retrieving the records.
(iii) Do not overpack boxes. NEVER place records/material on the bottom, side, or on top, of other records in the box. NOTE: FRC's will not accept boxes that are not full or padded. This prevents records from sliding or falling out of folders during shipment.
(iv) Pack records, in existing file arrangement, in the box with the folders in an upright position.
(v) Do not seal the boxes with tape. Fold flaps as instructed.
(3) Labeling and shipping
(i) After receipt of an approved SF 135 by the Center Records manager, the Accession Number given is written on the upper left corner of each box in the accession.
(ii) The Agency box number is written on the upper right corner, beginning with Box Number 1 and includes the total number of boxes in the accession (see Labeling and Box Markings for Shipment figure).
(iii) Do not use labels to supply additional information. Accession numbers and box number must be written directly onto the box with a felt tip marker.
(iv) Center RM will arrange for shipment within 90 days after receipt of the approved SF 135. If retirement cannot be made within this period, contact the RM. Unexplained delays of more than 90 days will result in the FRC canceling the accession number and returning the SF 135. The entire approval process will have to be started over. This requires the resubmission of paperwork, obtaining approval for shipment and renumbering the boxes with a new accession number.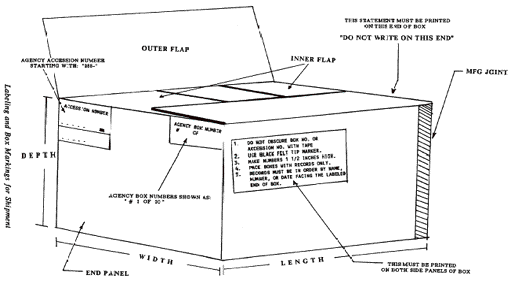 Labeling and Box Markings for Shipment
(4) Restrictions
SECRET and CONFIDENTIAL records, coming under the General Declassification Schedule, can and should be retired to FRC's whenever the records are eligible.
TOP SECRET or EXEMPT records from the General Declassification Schedule are NOT eligible for retirement.
CLASSIFIED material may not be retired mixed with unclassified material. Folders or records containing classified material must be segregated from those containing unclassified material and must be retired in separate boxes under different accession numbers.
Consult Chapter 5 of NPR 1600.1, Security Procedures and Guidelines for minimum standards, procedures, specifications, and guidelines for the protection of classified information in NASA's possession.
* Accessioning Security Classified Records:
a. When the SF 135 is filled out, Item 1 will show the highest level of classification of any of the records in any box included in the accession.
b. In the column "Description of Records with Inclusive Dates," the following certification will be typed and signed by the head of the office retiring the records:
This certifies that the records in this accession are subject to the General Declassification Schedule, and all automatic downgrading actions possible have been taken and the documents re marked accordingly. Based on the most recent date of publication of the highest classified document in this accession, all of the contents of the boxes become unclassified on December 31, XXXX.

--------------------------------------------------------------
Typed name and signature of Office Head or authorized designee.
c. Care must be taken in describing classified records on the SF 135 to be sure to exclude classified information from the description.
(5) Retrieval
Records can be retrieved from both Center staging areas and FRCs. Requests should be made by completing Optional Form 11 (OF 11), Reference Request Federal Records Center [see Figure 4].
When completing an OF 11, provide complete delivery information, your name and telephone number, building name, and street address. Always furnish the accession number, Agency box number, location (if known), and the nature of the service, i.e., temporary withdrawal, search, permanent withdrawal. The original copy of the OF 11 is used to service the request and the last copy is used to charge out the records. This middle copy is used as a suspense copy for the Agency, except when the records are security classified. NOTE: Records classified "Secret" or higher, the Agency will send all copies of the OF-11 and will retain a photocopy of the form for suspense purposes.
Boxes or individual folders (if properly identified) may be obtained. Use a separate OF 11 for each folder or box requested from a different accession. Two or more contiguous items, folders, or boxes, however, may be treated as one item and requested on one OF 11.
If records are being requested under the provisions of the Freedom of Information Act or the Privacy Act, make a notation to that effect in the "Remarks" section of the OF 11 to ensure priority handling and immediate return.
Any records withdrawn from an FRC should be returned. When boxes or records are withdrawn, all folders should be refiled in their proper place in the boxes before being returned. The borrower is responsible for returning the records as soon as they are no longer needed. If records (boxes or folders) are withdrawn and are not to be returned, the borrower must notify the Center RM, who will so notify the FRC, so that records can be annotated that it is a "permanent" withdrawal. This permits the FRC to reuse shelf space if the withdrawal involves boxes.
Fig. 4 OF 11
Current version available at:
Informed -- ftp://ftp.hq.nasa.gov/forms/form/of0011.itp
PDF -- ftp://ftp.hq.nasa.gov/forms/pdf/of0011.pdf
I.7 Electronic Records
a. Electronic records and records systems
(1) Electronic record defined
An electronic record (e-record) is any information (including e-mail or a digitized copy of a paper record) that is recorded in a form that only a computer can process and that satisfies the definition of a Federal record in 44 U.S.C. 3301.
(2) Electronic records systems defined
Electronic record systems are those information systems that produce, process, or store records by using a computer.
b. Managing and disposing of e-records
(1) Requirement
All e-records (regardless of physical format or electronic/computer file format) shall be scheduled, managed and dispositioned in accordance with approved retention schedules, just as any other record. The same policies and procedures that apply to other record mediums also apply to electronic records with a few exceptions. These exceptions are based on the need to have information about the system, the media being used, and the data being acquired.
(2) Responsibility for managing e-records
Until the Agency implements a records management application for automated capture and management of e-records, individual employees and organizations shall be responsible for the appropriate capture, storage, and disposition of records they receive and create.
(3) Using the NASA Records Retention Schedules (NRRS) for e-records disposition
Many NRRS items, including those with retentions authorized under NARA General Records Schedules (GRS), are considered media-neutral allowing use with all formats, including e-records. Exceptions are outlined in 36 CFR 1228.31 and GRS 20, Items 2 and 3. Authority for each NRRS item may be found at the end of its disposition instructions.
(4) Disposition of hard copy records used to create e-records
Hard copy records may be captured in part or in whole through data entry from paper forms or converting documents into e-record format. Disposition of the hard copy source records shall be dispositioned in accordance with GRS 20, Item 2.
(5) Managing electronic mail messages
(a) Electronic mail (e-mail) messages as records. E-mail is simply a different format for the communication method known as -correspondence.+ Depending on their subject matter, e-mail messages may qualify as unique NASA records. E-mail messages that qualify as Federal records shall be managed as such.
(b) Scheduling e-mail messages. The important -first cut+ of determining substantive (as described below) vs. non-substantive e-mail messages needs to be made with careful judgment.
(i) Some e-mail messages contain important information: NASA business discussion, decisions/direction, annotation, opinion, debate, and commentary. Such messages should be considered substantive in nature. Manage substantive e-mail in one of two ways: either according to the retention schedule for other records on that subject, or, in the case of NASA management e-mail, as management correspondence under NRRS 1/22 -Records of Management.+
(ii) Other e-mail messages are transient in nature or non-substantive in content. Many messages simply transmit attachments. In such cases, the attachments may be records, but the e-mail message itself may be similar to a paper routing slip. Manage and dispose of all non-substantive e-mail in accordance with NRRS 1/78G -Transitory Files.+
(6) Transferring permanent e-records to the National Archives
(a) Record transfer instructions. NARA continually broadens the scope of formats in, and electronic methods by, which permanent records may be transferred to the National Archives. At publication of this document revision, acceptable electronic formats and methods for transfer to the Archives include:
(b) Record transfer media. At present, acceptable media by which to transfer records to the Archives are:
open reel magnetic tape
magnetic tape cartridge
Compact-Disk, Read Only Memory (CD-ROM)
File Transfer Protocol (FTP)
Digital Linear Tape IV (DLTtape IV)
(c) Further records transfer information. Detailed transfer standards and methods are available at CFR 1228.270 -Electronic records,+ particularly subparagraphs (c)(1), (2) and (3). See http://www.archives.gov/about/regulations/part-1228/l.html.
Watch for information about future standards and acceptable transfer formats at NARA+s Web site for electronic records guidance http://www.archives.gov/records-mgmt/initiatives/erm-guidance.html. When NASA electronic permanent records are due for transfer to the National Archives, contact your Center Records Manager who will check the most recent requirements from NARA and work with you and the Archives to reach agreeable transfer format and process instructions.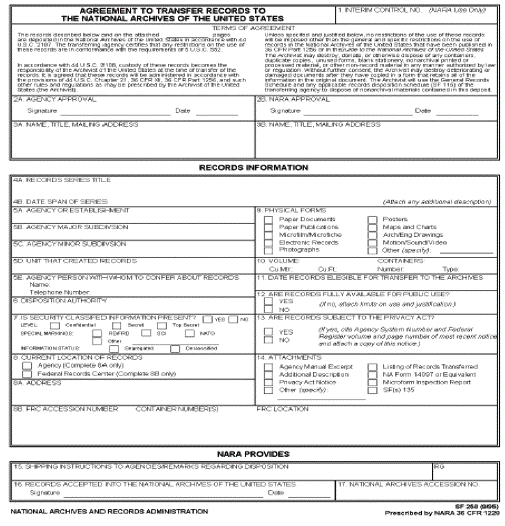 Fig. 5 SF 258, "Agreement To Transfer Records To
The National Archives of the United States"
Current version at:
Informed -- ftp://ftp.hq.nasa.gov/forms/form/sf0258.itp
I.8 Primary Files Subject Identification Codes
1000-1999 ORGANIZATION
5000-5999 PROCUREMENT
General
1000
Procurement/Small Business/Industrial
5000
Organizational Structure
1100
Procurement (Contracts)
5100
Internal Management Controls
1200
Contractor Labor Relations
5200
External Relationships
1300
Reliability and Quality Assurance
5300
Administrative Management Programs
1400
Contractor-Held Government Property
5400
Administrative Services
1500
Patent Waiver
5500
Security
1600
Statement of Work
5600
Safety
1700
Awards, Inventions, and Contributions
5700
Occupational Health
1800
Grants and Cooperative Agreements
5800
Standards of Conduct
1900
Contractor Financial Management & Reporting
5900
2000-2999 LEGAL AND TECHNICAL
6000-6999 TRANSPORTATION
Law and Legal Matters
2000
General
6000
Technology Utilization
2100
Commercial Freight Services
6100
Scientific and Technical Information
2200
Traffic Management Programs
6200
Management Information Systems
2300
Transportation of Unusual or
Automatic Data Processing Management
2400
Hazardous Cargo
6300
Communications
2500
Preparation and Handling of Cargo
6400
Photographic Services Management
2600
Special Airlift Services
6500
Information Technology Management
2800
Transportation & Transport Engineering
6600
Motor Vehicle Operations and Management
6700
Passenger Transportation
6800
3000-3999 PERSONNEL
7000-7999 PROGRAM FORMULATION
Human Resources/Personnel General
3000
General
7000
Executive Human Resources Management
3100
Research & Development Planning & Approval
7100
Personnel Provisions
3200
Institutional Planning & Approval
7200
Employment
3300
Facility Planning & Approval
7300
Employee Performance and Utilization
3400
Approval, Mgt. of Financial Reports (R&D)
7400
Position Classification, Pay, and Allowances
3500
Commercialization
7500
Time and Attendance
3600
Program Operating Plans
7600
Personnel Relations and Services
3700
Human Resources Utilization
7700
Insurance and Annuities
3800
Resources Authority Allocation System
7800
General and Miscellaneous
3900
Aircraft Operations & Management
7900
4000-4999 PROPERTY AND SUPPLY
8000-8999 PROGRAM MANAGEMENT
Property and Supply
4000
General
8000
Inventory Management
4100
Advanced Studies
8100
Equipment Management
4200
Supporting Research & Technology
8200
Utilization and Disposal
4300
Grants & Research Contracts
8300
Supply Cataloging
4400
Tracking & Data Acquisition
8400
Storage and Distribution
4500
Environmental Management
8500
Expanded Supply Control
4600
Operations
8600
Safety & Mission Assurance
8700
Real Property & Facilities
8800
Program Medical Support
8900
9000-9799 FINANCIAL MANAGEMENT
9800-9999 INSPECTOR GENERAL FILES -- AUDITS & INVESTIGATIONS
Principles & General Policies
9000
Investigations Program
9800
Agencywide Coding Structure
9100
Audit Program
9900
Accounting
9200
Financial Reports
9300
Budget Formulation and Execution
9400
Contractor Financial Management Reporting
9500
Fiscal Operations
9600
NASA Travel Regulations
9700
DISTRIBUTION:
NODIS
---
This Document is Obsolete and Is No Longer Used.
Check the NODIS Library to access the current version:
http://nodis3.gsfc.nasa.gov

---