NASA
Procedural
Requirements
NPR 2830.1A
Effective Date: December 19, 2013
Expiration Date: December 19, 2023
COMPLIANCE IS MANDATORY FOR NASA EMPLOYEES
---
Subject: NASA Enterprise Architecture Procedures
Responsible Office: Office of the Chief Information Officer
Chapter 2: The NASA EA Process and Key Documents
2.1 NASA EA Process
a. The NASA EA Process is an integral part of the investment management life cycle, from the Strategic Plans developed in the first phase of the Planning, Programming, Budget, and Execution (PPBE) process as outlined in NPR 9420.1, through the selection and implementation phases of the Capital Planning and Investment Control (CPIC) process. EA provides the strategic IT roadmap to ensure that IT spending decisions are aligned to best support NASA's mission and business goals. This NPR is a complementary document to the NPR 7120.7/NID 7120.99, NASA Information Technology and Institutional Infrastructure Program and Project Management Requirements, on the program and project management of informed Government acquisition of technology, and the management of that technology.
b. All IT investments made at the Enterprise, Mission Directorate, Program, Project, and Center levels shall align with the Agency Enterprise Architecture. With the assistance of active stakeholder participation, the NASA EA Process provides the structure and discipline that helps align our strategic goals and objectives with implemented IT architecture and effectively guides and influences IT investment decisions. These investment decisions, based on the NASA EA Process, will support efficient, effective, and economical acquisition, implementation, and disposition of information resources, while accommodating the varying needs of a diverse user community.
c. The EA Process shown in Figure 2 describes the NASA EA program functions throughout the entire NASA investment management life cycle. The EA is the sum of multiple architectures, and the process is continuous. While only the Agency-level and Center-level are depicted in the diagram, the EA Process encompasses the Mission Directorate, Program and Project level architectures, as each of these are architected and implemented at the Agency-level and Center-level. The Agency-level provides the enterprise view of each specific EA activity and plan, while the Center-level provides an aligned and complementary Center view of these activities and plans.
d. Chapter 3 breaks down the development and use of the EA process in Figure 2-1 (below) in further detail.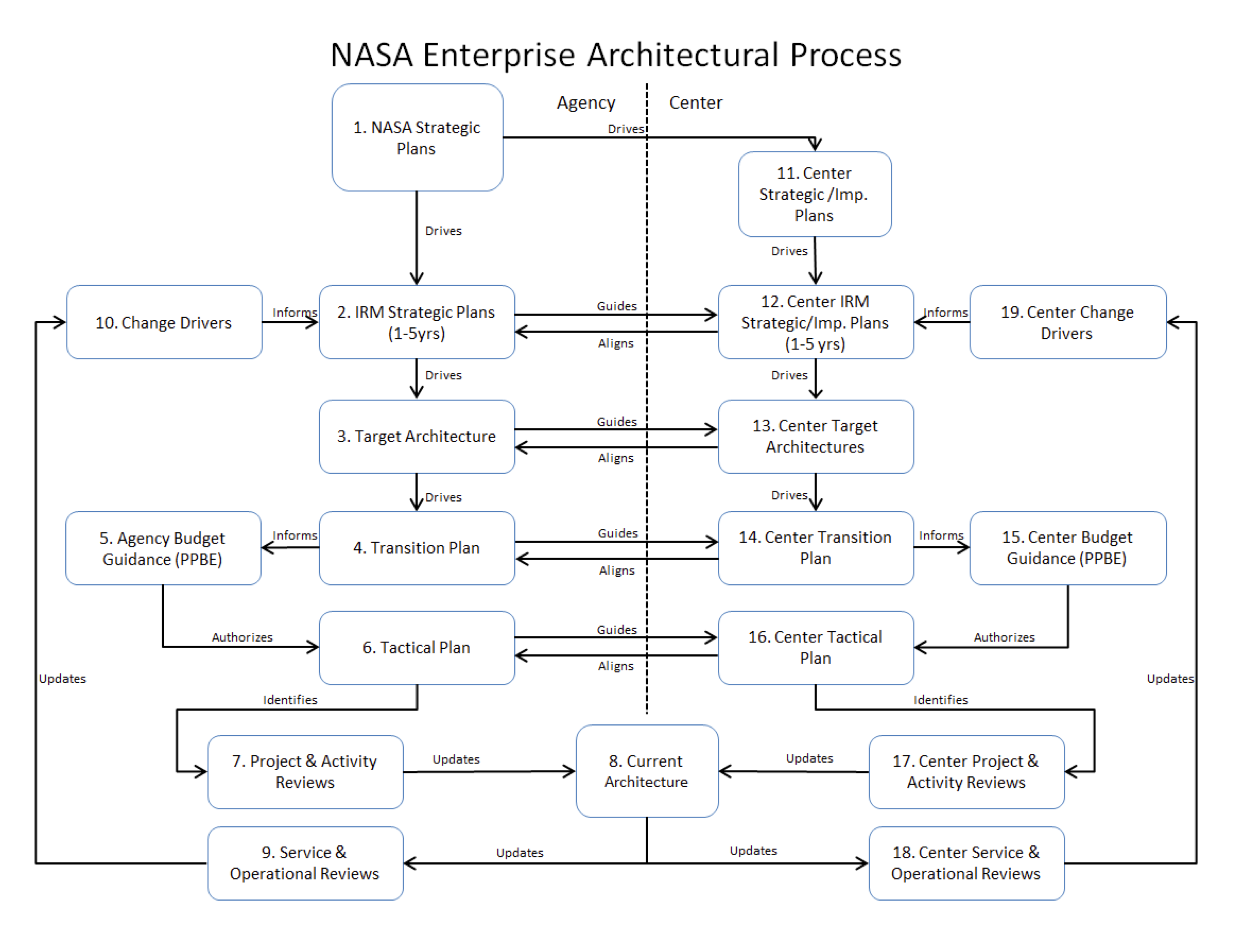 Figure 2-1 NASA EA Process
DISTRIBUTION:
NODIS
---
---