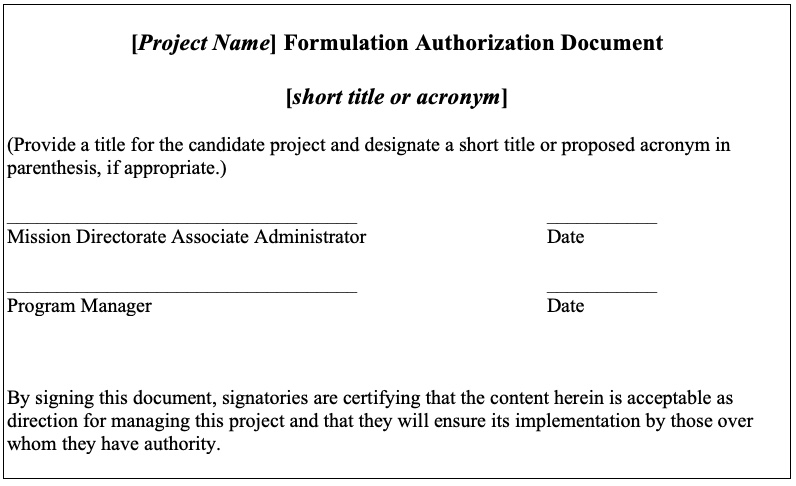 Figure E-2 Project Formulation Authorization Document Title Page
E.3 Program/Project FAD Template
[Program/Project Name] Formulation Authorization Document
[short title or acronym]
1.0 PURPOSE
Describe the purpose of the program/project, including a clear traceability from the goals and objectives in the Mission Directorate Strategies or Program Plan, as applicable. This need is independent of any particular technological solution and is stated in terms of functional capabilities.
2.0 AUTHORITY
Describe the NASA organizational structure for managing the Formulation process from the Mission Directorate Associate Administrator (MDAA) to the NASA Center program/project managers, as applicable. Include lines of authority, coordination, and reporting. For projects and single-project programs, the Formulation Authorization Agreement (FAD) provides the basis for the project's Formulation Agreement. Specifically identify the Decision Authority and the governing Program Management Council (PMC) for oversight of the program/project, per Section 2.3 of this NPR.
3.0 PROGRAM TYPE/PROJECT CATEGORY
For programs, identify the program type (uncoupled, loosely coupled, tightly coupled, single-project). The MDAA determines the type of program with concurrence from the NASA AA. For projects, identify the project category (Category 1, 2, or 3).
4.0 PROGRAM/PROJECT GOALS AND OBJECTIVES
Describe the level or scope of work, goals, and objectives to be accomplished in the Formulation Phase, Formulation cost targets and constraints, the time available, and any other constraints.
5.0 INTERNAL PARTICIPANTS
Identify Mission Directorates, mission support offices, and Centers to be involved in the activity, their scope of work, and any known constraints related to their efforts (e.g., the program/project will be co-funded by a different Mission Directorate).
6.0 EXTERNAL PARTICIPANTS
Identify participation external to NASA to be involved in the activity, their scope of work, and any known constraints related to their efforts (e.g., the program/project will be co-funded by the external participant; commercial or other partners that will develop end products that are not owned by NASA, but are provided as services to NASA; etc.).
7.0 BUDGET AND COST ESTIMATE
Identify, by fiscal year, the funding that will be committed to the program/project during each year of Formulation. If the Formulation period is less than five years, provide estimated annual costs for five years. For projects, provide an estimated life-cycle or initial capability cost range that is consistent with this five fiscal-year cost runout.
8.0 SCHEDULE
For each project, provide the planned date for the completion of Phase A and estimated completion of Phase B. Provide an estimated date (or range) for the completion of project development. Specify the planned prime operations period.
9.0 LIFE-CYCLE REVIEWS
Specify the program and project life-cycle reviews (per figures 2-2, 2-3, 2-4, and 2-5 in Chapter 2 of this NPR) that are required to be conducted during the Formulation Phase. Include any other requirements (e.g., the Pre-ASM, ASM) and any known unique considerations (e.g., innovative acquisition approaches (see Section 2.2.4.1), international participation). Identify tailoring to accommodate aspects of innovative acquisition approaches and when the tailoring approach will be defined.